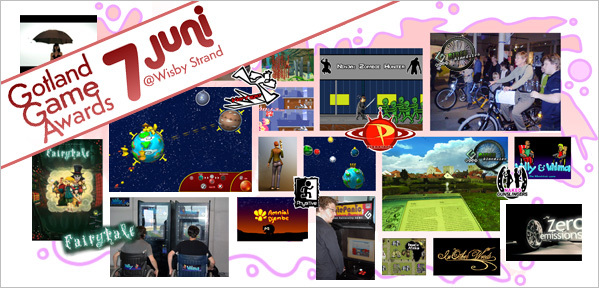 Gotland Game Awards 08
Gotland's University will during a few days in July be visited by some of the biggest international names within the game industry. The reason is Gotland Game Awards, which this year is being held for the 2 time. They will during this time period play games (and watch CG movies) designed and produced by students at Gotland's University. Nour El-Refai as seen on TV during the Swedish Eurovision Song Contest qualification rounds will be presenting the 13 awards. Young and old, happy or glad, you're all very welcome to test the games, watch the movies and attend the award ceremony at Wisby Strand on the 7:th of June!
About Gotland's University
Gotland University was established in 1998 and is thus one of the youngest universities in Sweden. We offer students and teachers alike a stimulating learning environment. Quality programmes and courses in both Swedish and English are offered on campus and on-line. Located in the World Heritage city of Visby, the university is naturally enhanced by the rich historical and cultural atmosphere of Gotland, a geologically and environmentally unique island in the middle of the Baltic Sea.
About GAME
Six years ago we started the first game education in Sweden. This was done together with our already existing script development education based on two ideas about what the future might become: That game-design would be the next single most powerful addition to culture, and that the convergence of disciplines within games, films, contemporary fine art and programming, would lead to new forms of expression and experience.
Awards for GGA08
Best Serious Game Award
| | |
| --- | --- |
| | This is for the best game within the spectrum of what is defined as a serious game. The winner of this game will receive funds and support to further develop their game. – Presented by Steven Bachelder, professor Gotland University |
Red Cross Anti-discrimination Award
| | |
| --- | --- |
| | Instigated by the Red Cross and University of Gotland the Red Cross award will be given to the project group or individual that shows innovative as well as intelligent ways of bringing human rights and anti discrimination issues into the gaming world. – Presented by Anita Ekman, Red Cross |
Almedalen Library Award
| | |
| --- | --- |
| | This award will be given to a playable game that explores the positive aspects of games as a media form. The winning game or demo will be mass produced and distributed through the Swedish Library System. – Presented by Mait Juhlin |
JADE- Project Award
| | |
| --- | --- |
| | This award will be given to the game that has them most potential as a commercial business concept. The award will consist of funds, coaching and support for the project group to start a business. – Presented by Pernilla Kjellström, Madame Herr Donner |
Best Presentation Award
| | |
| --- | --- |
| | This award is for the best presentation of a game, computer graphic animation or project concept. – Presented by Troels Linde |
Best Arcade Game Award
| | |
| --- | --- |
| | This is for the best arcade game completed by the first year game students in the Theme Park course. – Presented by Mirjam Eladhari, HGO |
Best Game – Big Game Project Award
| | |
| --- | --- |
| | This award goes to the game judged to the best of the second year course – Big Game Project – Presented by Johannes Wadin |
Best CGA – Best Commercial
| | |
| --- | --- |
| | This award goes to the CGA production judged to be the best of the first year CGA students in the course. – Presented by Jasmine Orthbandt, Pixeltamer Berlin |
Best CGA – Theme Park
| | |
| --- | --- |
| | This award goes to the CGA production judged to be the best of the first year CGA students in the course. – Presented by Johan Svahn, Jadestone |
Best CGA – Open & Invitation
| | |
| --- | --- |
| | This award goes to the best cinematic scene – Open and Invitational. – Presented by Fredrik Persson |
Best Game Award- Open and Invitational
| | |
| --- | --- |
| | This category is open to any Game Projects being completed by Businesses, Academics or Project Groups located on Gotland or by projects that are called in through invitation from outside the region. – Presented by Alexander Fernández Streamline Studios CEO |
Alumni of The Year
| | |
| --- | --- |
| | Goes to the HGO GAME/CGA Alumni that has achieved outstanding lifetime achievements or exceptional achievements during the 2007-2008 time period. |
Pwnage Award – Best at Show All Categories
| | |
| --- | --- |
| | This award goes to the best project in all Categories. This Project wins a trip to Leipzig in August to GCDC and gets show their game. – Presented by Earnest W Adams |